Hygienic Stainless Steel Fabrication
Axium Process is a leading hygienic Stainless Steel Fabrication specialist delivering bespoke engineering solutions that encompasses product design and development through to the highest specification hygienic stainless steel fabrication finished to customer requirements. Axium's expertise has been built on years of diverse and practical experience with projects in major sectors ranging from nuclear, aerospace, pharmaceutical, food, beverage, chemical and dairy.
Axium's fully streamlined and integrated processes encompass professional CAD drawing office facilities, a CNC equipped machine shop, MIG, TIG, Automatic Orbital welding and metal fabrication departments, a high specification metal polishing and surface finishing department as well as bead blasting and an electropolishing operation.   Materials of construction include 304/316/316L stainless steel, Hastelloy®, Duplex and engineering plastics.
Click here for our Hygienic Stainless Steel Systems and Fabrications brochure.
Pharmaceutical Fabrication
Axium Process' specialises in high profile, high-tech pharmaceutical fabrication. Its Procedures and Welders are Notified Body approved to ASME IX, BS EN ISO 9606-1 and BS EN 15614-1.  Significant investment in the latest professional testing equipment,  full traceability dossiers and stringent production, inspection and validation procedures enables Axium Process to fully meet almost any level of requirement specified by companies operating in the pharmaceutical, aerospace and nuclear industries.
Component Customisation
Specialising in stainless steel component customisation, Axium Process  has earned a reputation as one of the leading UK's hygienic stainless steel fabricators with a proven track record in  understanding what the customer really wants. Our scope of supply includes fully automatic customised filtration systems, stainless steel frameworks, heat exchangers, wedge-wire and sintered mesh filters, tanks and pressure vessels through to filling nozzles, pipework fabrication, tees, bends and manifolds.
Inspection, Traceability and Certification
Axium Process is an ISO 9001:2000 registered company and operate rigorous procedures to ensure that all aspects of material selection, design, production, inspection, packaging and delivery conform to customer specification. For more information please click here
Design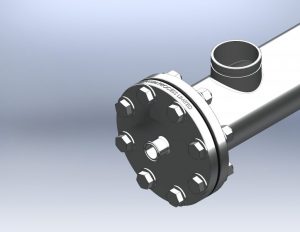 Our Design Office uses the latest design software enabling the visualization of individual components and assemblies which is of benefit to customers wishing to develop an idea or progress to a prototype. This is backed up by our team of engineers who routinely offer advice relating to cost reduction in the construction of hygienic stainless steel fabrications, ensuring the best possible value for money in terms of design, fabrication and delivery.
Surface Finishing
Axium Process can provide an extensive range of surface finishes to suit the requirements of its customers from bead blasting to electropolishing options.  Certificated finishes are available from descaled up to 0.10micron.  All polishing materials are certified free of animal derived products.
Hygienic Stainless Steel Fabrication