Fully Automated Standard CIP Systems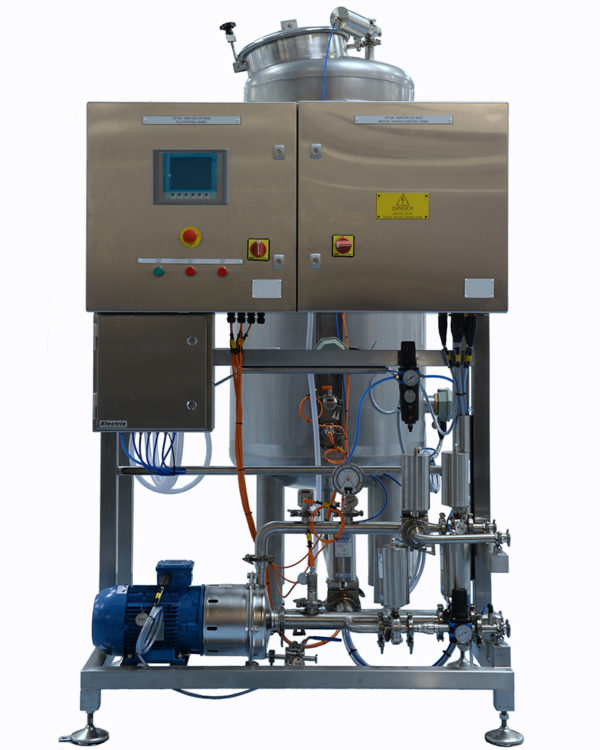 FULLY AUTOMATED STANDARD CIP SYSTEM OVERVIEW
Axium Process Fully Automated Standard CIP Systems are compact, functional units designed to supply cleaning, rinsing and drying solutions for wash stations and other process equipment.
Our Standard CIP system  range is automatically operated by control panels mounted on skids fitted with fully programmed PLC/HMI units that control the various skid functions.  As standard, electrically installed equipment is compatible with use at either 380-415V / 50Hz, or 440-480V / 60Hz. to  enable the skids to be operated at various locations around the globe.
ENQUIRE NOW
The table below illustrates the system design criteria, together with the range of supply available.
No.
Design Feature
Range of Supply
1.
Delivery pumps
A range of pump flow rates and pressures are available based on customer requirements. Inverter control of the pumps is available to achieve multiple duty points from one skid.
Installed flow switches protect the pumps from low/no flow conditions.

2.
Process Heating
In order to achieve target ΔTs, plate and frame heat exchangers are designed and fitted to the skid with accompanying steam gear.
Alternatively, CIP tanks fitted with immersion heaters can be supplied and integrated with the skid.

3.
Drying
Air fan blowers of various flow rates and pressures can be fitted. There is the option to have a heater fitted directly on the fan outlet or to connect to a heater further downstream on other process equipment.
4.
Chemical dosing
The standard skid design will accommodate up to 2 dosing pumps with ancilliary equipment. The typical duty range achievable is
5-250 L/hr with manual or automated stroke adjustment. Dosing control is also available based on pH and conductivity

5.
Process Control
A range of control from manual to fully-automated is available, but the standard skids are fully automated via PLC/HMI.
The butterfly valve control heads provide open/closed feedback to the panels and local LED indication. Pressure, temperature and flow can be monitored and data-logged via 4-20mA input signals.

6.
Pipework
All process contact parts are in 316L stainless steel, with various surface finishes available based on customer specification. Typical pharmaceutical finish is all welds removed internally/externally with 0.5μ Ra/ 0.8μ Ra respectively.
7.
Compliances
Axium Process is an ISO 9001 accredited company and can also supply equipment to meet many industry standards and regulations. These include; ASME BPE, GMP/GAMP, FDA, USP CLASS VI,
cULus, ATEX and PER/PED.

8.
Documentation
Each skid is accompanied by a comprehensive Document Dossier, supplied electronically via a USB drive.

The basic, non-hygienic skids will include; P&ID/GA drawings, operation manuals, data sheets, material and pressure test certificates and where appropriate a Declaration of Conformity.

In addition to the above, pharmaceutical skids will also include; weld logs and procedures, passivation, surface finish, dye penetrant and boroscope certification.

Fully Automated CIP Systems