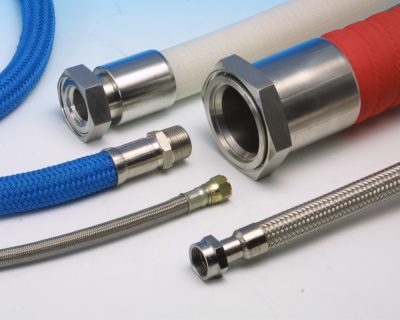 Flexible Hoses and Stainless Steel Hoses
Axium Process offers a comprehensive range of Flexible Hoses including smooth bore and convoluted PTFE, FDA approved silicone and food grade rubber delivery hoses.We also offer a comprehensive range of annular corrugated stainless steel hoses manufactured to BS6501 Part 1 1991
PTFE Lined Flexible Hoses
Designed for transport of sensitive or aggressive liquids at low or high temperatures.
End fittings can be fully PTFE lined.
Working temperatures range from -60°C to 230°C.
High performance under cyclic applications.
Anti-static black PTFE available.
Wire reinforcement for suction duties.
Range of external braiding materials available.
Silicone Rubber Flexible Hoses
Designed for food, medical and pharmaceutical applications.
Manufactured using FDA and European approved polymers.
Platinum cured silicone is available for WFI applications.
Working temperature range from -40°C to 120°C (constant).
1″-4″ standard sizes (6″ option to order).
Full identification marking available.
We can also offer:
Annular corrugated stainless steel hoses manufactured in BS6501 Part1 : 1991.
Food grade rubber bellows and light weight delivery hoses manufactured from FDA approved materials.
To view our full Stainless Steel Range, please click here.
Flexible Hoses