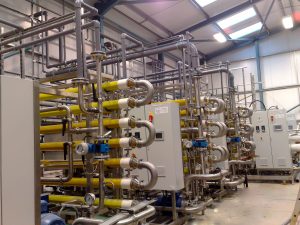 DYEHOUSE EFFLUENT TREATMENT AND WATER REUSE
Recover hot clean water from dyehouse operations including dyeing and rinsing for recycling.  Savings are obtained from reduced or almost zero purchase of water, reduced volume of concentrate disposal, heat savings and better consistency compared to natural waters.
Axminster Carpets Ltd is a renowned manufacturer of fine carpets.  Its Buckfast wool processing factory in Devon was processing and discharging 400 cubic metres of wastewater per day.
In order to satisfy environmental, cost and legislative requirements, Axminster Carpets decided to upgrade their existing DAF operation and replace it with a technology that would:
Reduce the volume of water consumed
Reduce water costs
Reduce the volume of effluent discharged
Reduce the cost of disposal
Almost eliminate the purchase of treatment chemicals
Comply with future legislative requirements
Provide a reliable, secure and consistent water quality for dye house applications
Following a series of successful on-site pilot trials by Axium Process, Axminster Carpets elected to use membrane technology as it met all the company's requirements and considerations.
Axium Process designed and built a two stage membrane system using ultrafiltration and reverse osmosis technologies which is saving 350 cubic metres of water per day by recirculation and purification through an almost closed loop system.
The water recovered is hot, pure, free of mineral salts and natural organic matter and is ideal for dyeing.  Considerable savings have been achieved by the recovery of lost heat energy from the production process and from the reduced volume of waste which can typically be in the region of 10% of the original volume.
The use of waste treatment chemicals and their handling, storage and disposal to the environment has been virtually eliminated so Axminster's DAF plant is now no longer required.
Return Membrane Filtration Systems
Dyehouse Effluent Treatment