Press Release – June 2015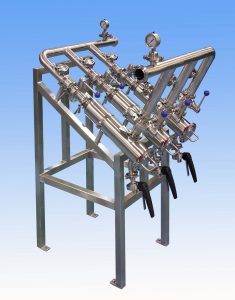 Sun Valley, a market leading supplier of quality processed and raw nuts to Europe's most successful retailers and major blue chip manufacturers, has recently purchased a number of bespoke filter systems which have been designed and manufactured by filtration specialist, Axium Process and which are providing Sun Valley with  improved process efficiencies and reduced downtime.
The company, which traditionally used a sheet filter system for removing nut shell debris from oils, was looking for a flexible system capable of filtering from 2000 micron down to 50 micron that would require only a small footprint as well as being easy to maintain and clean.
Working closely with Sun Valley, Axium's engineers designed and built a stainless steel duplex and triplex filter system using Axium's Pure-Screen Wedge-Wire Filters which have a proven track record for their reliability, robustness, versatility and are also very simple to clean.  The system, which is manufactured in 316L stainless steel, was delivered complete with frames, gauges, isolation valves and fittings and was supplied with full materials certification to BS EN 10204 3.1.
Axium's Pure Screen wedge-wire filter range, which is being used across a wide range of industries for a diverse range of duties, has no moving parts, does not require tools for cleaning and can provide filtration levels from 10 micron up to 6000 micron as standard.
Axium's engineers work closely with its customers to fully understand their processing requirements so that the optimum filter is supplied for a given application.  Filters can be customised to suit customer requirements and special options include a high capacity 6" body design, a jacketed design for product heating or cooling as well as duplex, mulitplex and stand-alone options.
Sun Valley are nuts about Axium Process Filters