Press Release – March 2016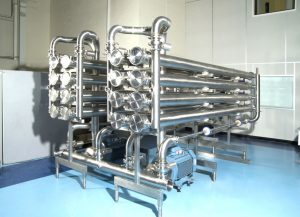 Standard and Customised Membrane Housings – design, manufacture, test and certification to suit a wide range of configurations
Companies that have a requirement for customised membrane housings can benefit from the expertise and modern facilities provided by Axium Process who specialise in the design, manufacture, test and certification of a wide range of high quality stainless steel membrane housings in both standard and bespoke formats.
The standard range of housings available span diameters of  2.5", 3.8", 4.0", 4.2", 6.3", 8.0", 8.3" with lengths to accommodate a single element up to 6 elements in series (S1 to S6).
Standard housing designs include 2, 3 or 4 port options with top, bottom and side port or end port configurations. Housing connections include tri-clamp ferrule, flanged, threaded, and grooved ends for Victaulic® couplings.
Axium's membrane housings can be manufactured for a wide range of operating pressures, typically 6 bar to 64 bar that cover all aspects of Microfiltration, Ultrafiltration, Nanofiltration and Reverse Osmosis.  Manufactured from the highest quality materials, with 316L (1.4404) stainless steel being the industry standard, housings can be provided with hydrostatic pressure test certification and material certification to BS EN 10204 3.1  for every fabrication. Surface finish testing, surface passivation and TSE-free certification are also available on request.
In addition to membrane housings, Axium Process is able to supply a full range of membranes from various membrane manufacturers as well as anti-telescoping devices (ATD's), membrane couplers and interconnectors, permeate blanking plugs, lip seals, O-rings and permeate hoses in a range of sizes and materials.
Standard and Customised Membrane Housings