Press Release – October 2015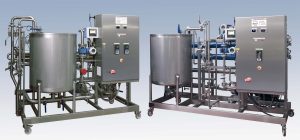 Manufacturers wishing to develop or optimise their separation processes are benefiting from the comprehensive pilot plant testing services of membrane filtration specialists, Axium Process. Pilot plant separation studies help determine at an early stage process feasibility, plant design and an evaluation of likely operating costs.
Utilising its comprehensive range of mobile membrane filtration pilot plants, Axiums' specialist engineers will carry out trials on fresh feed supplied by the customer at its state- of- the-art Swansea based laboratory and testing area or at the customer's premises. Each customer is supplied with a test protocol prior to the trials and a sample analysis together with a detailed report is provided upon completion.  A range of different membranes can be used througout the trials as the company is independent of any membrane manufacturer ensuring that the optimum membrane can be selected for a given application.
The company, which has a wealth of membrane filtration experience, specialises in product separation, clarification, purification and concentration which can provide processing and cost benefits helping manufacturers to achieve sustainability and energy efficiencies.
Operating across a wide range of industries, Axium routinely carries out trials for a wide range of applications including dilute sugar stream concentration, dyestuff desalting and concentration, process waste water and waste volume minimisation, effluent treatment, precursor purification, final filtration of bottled water, recovery of cleaning chemicals, enzyme concentration and purification, clarification of fruitjuice and quarg cheese production to name but a few.
The company, which has earned an international reputation for its filtration expertise and "can do attitude" also includes as part of its services, product and process development; suggestions where possible to reduce plant costs; design, build, validation, testing and qualification to the highest levels;  technical and training support together with an after sales support package that will be tailored to accommodate customer requirements.
Specialist Pilot Plant Helps Optimise Filtration Processes