Press Release – August 2013
Extended Range Of Tube And Pipe Fittings Provides More Choice From One Source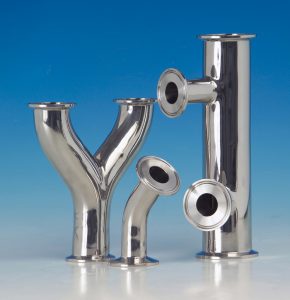 Axium Process, specialist stainless steel fabricators, has further extended its range of stocked stainless steel tube and pipe fittings to support customer requirements in terms of material specification, consistent product quality, next day delivery and value for money across a wide range of industries including biotechnology, pharmaceutical, food, beverage, dairy, cosmetic, chemical and textile
The company's comprehensive range of hygienic stainless steel clamp fittings now includes both forged and machined clamp ferrules and its heavy duty clamps are available in both 304 and 316 stainless steel in line with customer demand.
Stocked tube and pipe fittings include fully traceable ASME BPE, Clamp, RJT, DIN, IDF, SMS, BSP unions, bends, tees, Y pieces, concentric and eccentric reducers, hosetails, equal cross pieces, seals and 316L stainless steel hygienic tube to ASTM 270.
For customers requiring stainless steel fittings and component fabrication to site specific operating conditions and requirements, Axium Process can provide a fast track specialist stainless steel fabrication service delivering engineering solutions and expertise based on a wealth of stainless steel experience. In-house processes include orbital, spot and manual welding, machining, fabrication, polishing, pickling and passivation as well as ferroxyl and dye penetrant testing, pressure testing to 110 Bar and certificated surface finishing to 0.2 Ra.
Press Release – August 2013