Extended Pilot Plant Range Meets the Demand for Membrane Filtration Evaluation Trials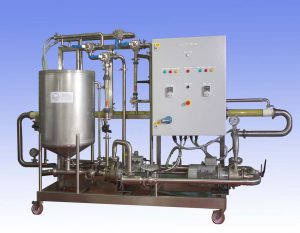 Axium Process, filtration specialists, has expanded its range of mobile membrane filtration units to support the increasing demand for pilot plant trials by manufacturers wishing to evaluate membrane technology as a solution to their process requirements. The pilot plants, which can be used for both "in process" applications or for waste stream concentration or purification, are designed for pilot microfiltration, ultrafiltration, nanofiltration and reverse osmosis trials.
Capable of processing from 0.15m3/h up to approximately 120 m3/h (based on water), Axium's range of mobile pilot plants can be customised to suit customer specific requirements  utilising either tubular, hollow fibre, spiral or ceramic membranes and can  operate in either batch or continuous mode.   The company is independent of any membrane manufacturer ensuring that the optimum membrane can be selected for a given application.
Trials can be carried out at Axium's Swansea based facility or on site at customers' premises to fully quantify product variations and with fresh feed,  as well as providing an opportunity for customers to gain firsthand experience with membrane operations using their own feed material.
Membrane filtration is used by manufacturers operating throughout a wide range of industries including food, dairy, beverage, chemical, textile and pharmaceutical for applications such as product separation, process water recovery and waste volume minimisation.  The technology can offer enormous potential for cost savings in terms of reduced water usage, heat recovery, chemical recovery, reduced effluent volumes and disposal costs as well as providing processing benefits such as a consistent supply of commercially sterile recovered water.
Axium Process specialises in the design and build of customised membrane filtration systems providing extensive expertise in product and process development, design, fabrication, installation and commissioning.
Press Release – October 2013